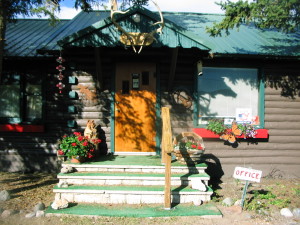 South Fork Lodge is set "in-town" within the breathtaking Rio Grande National Forest, over 8200 feet above sea level. Our facilities offer a unique, comprehensive lodging experience in southwest Colorado.
LODGE
Common and Shared Areas
Our lodge includes a number of shared facilities available seasonally for use by our guests. Our on-property common area features a fully-equipped kitchen with pots, pans, dishes and serving utensils. You can enjoy relaxing in our 6-person outdoor hot tub. We also have a central area for open campfires, a central picnic area with BBQ grills throughout the park, and a swingset for kids. Our facility also includes a complete coin-operated laundromat.
Pet Policies
A maximum of 3 pets are allowed in private rental units. Pets may not be left unattended unless crated. There is a $5/night pet fee per pet. Pets are also allowed at campsites for no additional cost. Well-behaved dogs or cats are allowed on a leash outdoors while their owners are on-site. Kennel and pet-sitting services are also available within a 25-minute drive, along with veterinary services within a 15 minute drive.
Technology
Fax service is also available at the office for an additional fee. Free wireless (WiFi) high-speed internet is also available to all guests.
Payments Accepted
We proudly accept Visa, MaterCard and Discover cards, as well as personal checks, cash and money order.
GROUP ACCOMMODATIONS
All sorts of groups are welcome at South Fork Lodge, including clubs, corporate meetings, reunions, weddings and elopements, youth groups with adult leaders, and retreats.
Indoor and Outdoor Group Meeting Areas
Central Area for open Campfires (If no local fire bans are active.)
Central Picnic Area
BBQ Grills Available
Maximum # of Day-Use Guests in Indoor Meeting Room: 50
Maximum # of Day-Use Guests in Outdoor Open Picnic Area: 100
Maximum # of Lodging Guests with a Group: 58
Maximum # of RV Camping Sites with a Group: 29
Recreation Room Available for Rent (additional fee(s) may apply)
CANCELLATION POLICY
Because of our optimal and highly desirable location, there is a high demand for accommodations at our lodge. Therefore, we must enforce a strict cancellation and no-show policy. A 30-day cancellation notice is required during all holiday seasons including Spring Break; otherwise a 14-day notice is required during all other times throughout the year. If you cancel before the deadline, generally you will not be charged a penalty. However, if you fail to cancel before the stated deadline period, you will be held responsible for your entire reservation.